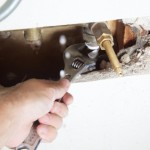 Do you have an unknown leak inside or outside your home?  Jordan Heating provides a specialist leakage detection and repair service which can quickly locate and fix your leak.  As prevention is better than cure, we also provide a burst pipe review service.  Our specialist plumbers will track all your existing pipework and ensure the necessary levels of insulation are in place to prevent burst pipes.
Do you smell oil or fumes in your house or do you have any oil stains?  Jordan Heating carry out a range of tests including oil tank and oil spill tests and water tests on oil tanks. Water in your oil heating system may cause irreparable damage so if you have any concerns then make sure you get your system tested.
Jordan Heating also provide insurance quotations to repair damage that an oil or water leak or burst pipe may have caused.
Please email us at: service@jordanheating.com with if you have a leak, burst pipe or wish us to investigate the quality of your insulation and our dedicated plumber will contact you to arrange a visit and a no-obligation quotation.